NEWSLETTER & FACEBOOK SPECIAL OFFERS
* THE ULTIMATE FACIAL *
 
3 x ULTIMATE FACIALS for £399 (normally £790)
* A firm favorite for many clients as it combines 3 key treatments...
* An IPL ELight Skin Rejuvenation Facial... for skin and pore tightening, targeting facial redness, pigmentation and acne, giving an overall healthier complexion
*  A Bespoke Dermal Peel... a deep clean to remove dead skin and working on skin tone and texture to give a healthy glow back to the skin 
* A Relaxing Aromatherapy Face, Neck & Shoulder Massage... just because you deserve it!

(Offer ends 1st July 2018)
HIFU Upgrade
For voucher holders only. It is possible to upgrade the HIFU 'small area' treatment to the full face treatment by upgrading from the small area worth £299 to the full face for £499 by paying the extra £200. Please purchase by clicking the link below and then book your appointment.
We support the British Forces by offering 25% Discount Off Treatments  (except the Dermamelan and Acne Peel Systems).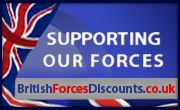 Call to book your appointment on 0843 289 9873